Here's the some of the best Americana and roots-type music releases for the week of June 25th, 2013. Click the artist or album links to find out more.  The artist's names link to their websites and the CD title links go either Amazon or CD Baby for easy ordering.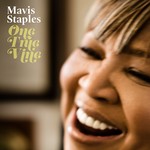 MAVIS STAPLES
One True Vine (Anti-)
Coming off the success of her first collaboration with Wilco frontman Jeff Tweedy, Mavis wanted to make their second album together both a continuation of the joyous spirit of the first, and an evolution. With new song offerings from Alan Sparhawk of Low, Nick Lowe, and three Tweedy originals, One True Vine is at once a darker and more uplifting album, anchored by reinventions of two 70′s classics Funkadelic's "Can You Get to That?" and the Staples Singer's "I Like the Things About Me. " Tweedy and Staples have constructed a dense narrative arc, that starts with the literal soul searching of Sparhawk s "One Holy Ghost" and Tweedy s "Jesus Wept, " and then breaks wide open with Nick Lowe's soaring "Far Celestial Shores. " After that, the album builds to full tent revival mode, as the dark night of the soul passes and joy arrives in the form of Mavis' glorious voice. Closing out with Tweedy's rapturous title track, One True Vine truly builds on the promise of You Are Not Alone.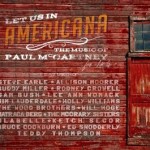 Various Artists
Let Us In: Americana: The Music of Paul McCartney (Reviver)
Let Us In: Americana, the album delves into the catalog of songs written by Sir Paul McCartney and John Lennon. All the proceeds will go to The Women And Cancer Fund, established in the memory of Linda McCartney. Produced by Phil Madeira in Nashville, New York, and San Francisco. Includes performances from Bruce Cockburn, Holly Williams, Buddy Miller, Lee Ann Womack, Steve Earle, The Wood Brothers, Rodney Crowell and many others. Highly recommended!
Also new this week…
BOOKER T – Sound the Alarm (Concord Jazz)
JERRY CASTLE - Desperate Parade (My World)
STEVE EARLE – The Warner Bros. Years (Shout Factory!)  (4-CD, 1-DVD set)
JESSE HARRIS – Borne Away (Secret Sun)
LITTLE LONELY -Little Lonely  (self)
WILLIE NILE - American Ride (Loud & Proud)
WATERMELON SLIM & THE WORKERS – Bull Goose Rooster (Northern Blues)
SUSAN WERNER – Hayseed  (Sleeve Dog)
Coming out soon… GUY CLARK, SARA HICKMAN, THE DEADLY GENTLEMEN, DARDEN SMITH, GLEN CAMPBELL, VINCE GILL & PAUL FRANKLIN, AMANDA SHIRES, THE CIVIL WARS, TEDESKI TRUCKS BAND … more new releases
Here's a link to this week's Americana Music Association Americana Airplay Chart