It's great news that the Americana Music Association is thriving and flourishing when so much in the music world seems uncertain.  They seem settled on their home in Nashville and have corporate sponsorship by way of Nissan, which is needed in this day and age.  After bleeding dollars for many years, the non-profit "trade  organization" finally balanced its books this year.  Attendance at this year's conference reached 1100 people; and they know how to host a good party.
The centerpiece of the Festival has always been the Honors and Awards Show at the historic Ryman Auditorium.  For me it's always been more about the music performances and less about who wins the awards.  Really, as much as I love and appreciate Buddy Miller, even he's tired of winning the Instrumentalist of the Year award. Shaking his head as he approached the podium, he remarked. "I'm really not that good of a player."  Robert Plant's Band of Joy won for Best Album after performing a plodding version of "Monkey." Other winners were Justin Townes Earle's fine "Harlem River Blues" for best song, and New/Emerging Artist award to Mumford & Sons, which received tepid applause perhaps because of their absence.
Performance-wise, the show opened beautifully with Emmylou Harris joined by Allison Krauss, Buddy, Jerry Douglas, and Don Was doing "I'll Fly Away".   Word was that Ralph Stanley had been slated to sing with them too but had to pull out at the last minute. The Civil Wars were quite good performing "Barton Hollow"  followed by Memphis legend Candi Staton commanding the stage on her "Heart On A String".  The Avett Brothers, who have been behind the AMA from the beginning through their huge popularity performed a new song that was nicely done. Gregg Allman sang "Sweet Melissa" near the end with Buddy Miller and Greg Leitz rising to the occasion. The whole band applauded after the finish. The show was being recorded for a PBS special to be aired in November, but the AMA wisely did not let the cameras and light distract from the proceedings at the request of many artists. NPR story on the show with audio and Tennessean story.
Lets look at some of my favorite evening shows, keeping in mind that you can't even attempt to see every act with four different clubs going and the driving distance and time involved. Wednesday began at The Rutledge, which is probably the nicest club because of the wealth of tables in the tiered club and the best sound.  Marty Stuart started off with a solo show, playing guitar and some mandolin to the packed club. He was followed by his wife, Connie Smith, backed by her regular band, who did a solid country set including old hits and songs from her new album.
Meanwhile, Marty's guitarist Kenny Vaughan, had his own show at the Mercy Lounge on 8th Avenue.  Kenny also has a new CD, entitled V, he was backed by a drummer and a fine keyboard player who played the bass lines on foot pedals.  The trio had a real Booker T groove happening and Kenny was enjoying sharing the solos. Meanwhile, downstairs from the Mercy in the largest club, The Cannery Ballroom, a Muscle Shoals Tribute was going full on with a full horn section, backup singers and multiple keyboards and guitarists.
I didn't get there early enough to hear all of the soloists, but I did hear Mike Farris' "I'd Rather Go Blind" followed by Jimmy Hall's "Land of a Thousand Dances,"  and the great Dan Penn's "I'm Your Puppet."  Webb Wilder did a fine job emceeing the proceedings with stories and anecdotes about the original recordings.  Then it  was back upstairs for 3 or 4 songs from the recently reunited Foster & Lloyd.  They covered a Beatles' song, a couple of their new ones, and "Fair Shake" before I had to pull  myself away to catch another favorite, Bruce Robison and wife, Kelly Willis at the Station Inn.  Luckily, they were running late so I caught half their set and was impressed by how  terrific they sounded.  A pretty big first night and 3 out of four clubs made for a feeling of satisfaction.
Thursday night was all about the awards show and there is always quite a bit of socializing after the festivities. By the time we got out of there it was almost 10 and the beginning of the evening's shows. I started at the Mercy to hear a new artist named Lera Lynn who was recommended to me by a friend.  She was good but didn't knock me out, so I went downstairs to see Carrie Rodriguez who sounded just great. If Lera Lynn was backed by Carrie's band she'd have probably sounded better too.  The place to be Thursday night seemed to be the Basement, which is the smallest but most fun club and the place that frequently has the "buzz" bands.  In this case it was Amanda Shires followed by a great set by the unique Malcolm Holcombe.  At midnight, Pokey LaFarge & the South City Three came on, dressed in their snazzy attire and the well lubricated crowd was pretty quiet and attentive despite the limited visibility of the intimate Basement.
By Friday night, the locals were out with their dates and the clubs were a little busier.  We started with young New West Records "buzz" singer Robert Ellis who was tearing  things up at the Mercy.  Local duo Eric Brace & Peter Cooper who introduced a humorous new Cooper song called "Grandma's Batman Tattoo."  I wanted to stay for the Bottle Rockets or run back to the Mercy for Elizabeth Cook and the North Mississippi Allstars, but I stuck with my original plan to catch two young up-and-coming bands at the Station Inn.  The Farewell Drifters had a dynamic way of building up their solos up to a feverish boil for a minute only to pull back for some fine harmonies.  As the crowd was thinning, The Black Lillies from  Knoxville kept them engaged with leader Cruz Contreras' excellent songs.
I am not going to mention all of the AMA daytime panels other then to say that most were quite informative and were directed at music industry artists and professionals. I went to quite a few, but the standout was the fan-based panel on Thursday at the Country Music Hall of Fame theater called "Land of 1000 Dances: The Groundbreaking Sounds of Muscle Shoals."  Writer Holly George Warren did a fine job coaxing great stories out Fame Studios owner Rick Hall and the legendary musicians who who worked on so many classic R&B hits in the 60's.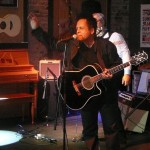 The panels were over by Saturday afternoon and there were no less than three great outdoor events to enjoy under the Nashville sun.  We hit all three somehow, missing a few key elements and acts, ending up at local music store Grimey's back parking lot party for some fine local bands, a taco truck and cheap used CD's and LP's.  What more could you want?  After 5 o'clock there was a Thirty Tigers party upstairs at the Hard Rock Cafe at the end of Broadway with a big patio and an excellent lineup of music from newcomer Nikki Lane, Raul Malo, Chuck Mead, and a great Brooklyn singer who had some minor hits in the 70's named Garland Jeffreys.  He was brilliant and hats off to David Macias for bringing him out for the show.
One last night… and we're starting to feel a little frazzled around the edges. I has seen The Deep Dark Woods last year at a festival in Oregon and enjoyed them, so I talked my traveling companion Bill Bowker into checking them out at the Basement.  The place was jammed and many Americana celebs were there like Kenny Vaughan, Gurf Morlix, Buddy Miller and Greg Leitz, the latter two who were in the clubs a lot all weekend.  The bands thick and moody songs had the crowd buzzing after. I wouldn't be surprised to see them on Letterman soon. Moving over the the Rutledge for the wonderful Blackie & The Rodeo Kings who had Bryan Owens on drums and Carrie Rodriguez and The McCrary Sisters joining them.  I had to pull myself away to catch Tara Nevins (Donna The Buffalo) with a fine pickup band including Mike Compton and Todd Phillips. Their Cajun-inspired acoustic honky tonk was excellent as they closed with a fiddle tune smoker. Australian Catherine Britt was less than impressive so I headed home before midnight to try an collect myself for the long flight back home to California.
Once again, I still missed quite a few other artists and each of the evening performances are less than an hour. Still, the AMA conference remains the best collection of great music in an intimate, meaning non-festival setting. I remember that PBS did a special on the New Orleans Jazz & Heritage Festival back in the early 90's and how attendance started to increase after that. I wish nothing but the best for the Americana Music Association but I hope it doesn't get too big and lose it's charm.