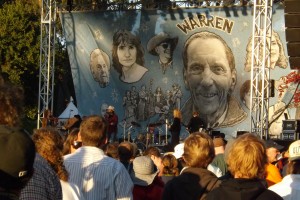 The yearly free Hardly Strictly Bluegrass Festival has blown through San Francisco's beautiful Golden Gate Park, leaving the meadows and bushes once again for its usual inhabitants to do whatever it is they do. Six huge stages powered by generators, backstage tents, and golf carts with a fenced-in network of roads to link them all is a monstrous undertaking.
I guess the saddest thing is the man who paid for it all, and who was the music's biggest fan, passed away last year and  is no longer here to enjoy it. As I assume you know already, billionaire investment banker Warren Hellman has been paying the tab for the festival for 12 years now and he's made sure in his absence that HSB will continue for many more years.
Hellman never looked or acted like the stereotypical billionaire. He would light up when you thanked him for the festival or talked about his banjo. He had a way of showing up at any of the stages at any time and just blending in, just wanting to enjoy the music like everyone else. I thought i saw him a few times over the weekend. And maybe I did.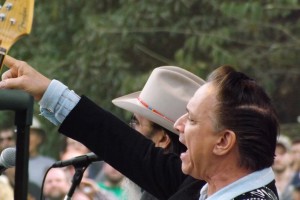 The festival has, of course, grown a lot and changed through the years. The "Hardly" modifier was never more evident than Saturday's opener, the rockin' (and great) World Famous Headliners, with "Big" Al Anderson, Pat McLaughlin, and Shawn Camp blazing away on electric guitars. They were on the main Banjo stage, which in previous years had been reserved for mostly acoustic and bluegrass acts. The HSB promoters have always had rock and blues bands on the bill and have even reserved space for the eclectic and undefinable acts like Red Baraat and Dirty Three on Saturday. Both were good and had the crowd jumping, but I wouldn't buy their albums.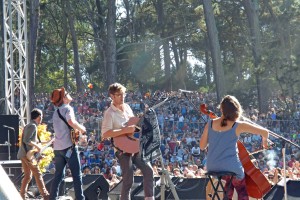 There were a number of younger bands that drew huge crowds of college-aged fans. All three that I saw, The Lumineers, The Head and The Heart, and The Civil Wars, were excellent and quite professional despite only having one album apiece. The Lumineers at the Rooster Stage meadow was as packed as I've ever seen it and The Civil Wars tweeted that this was their biggest audience ever. Pretty impressive.
The aforementioned "Headliners" were blasting their sound check song, "Ding Dong" at 10:45 as we walked through Hellman Hollow towards the Arrow Stage at the back of the meadow. The Trishas are a relatively new all-female band from Texas with a knack for catchy songs and nice harmonies. I saw an old radio friend, Mary Tilson, once with the legendary KFAT and now host of KPFA's "America's Back 40", who was MC'ing on the Arrow.
This put us a little behind in our attempt to make it to the Rooster Stage to see Warren's grandkids and ex-band members, which I heard was quite moving. We paused for some food and heard half of Buddy Miller's set, who  is always great. He brought Jim Lauderdale, who he's putting out a duet album with, for a few songs. Then we caught a new band from Ireland called Little Green Cars who had a delightful bright pop sound. Worth checking out and they were the surprise of the day.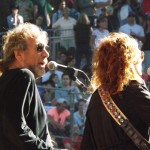 The Lumineers were way off in Marx Meadow's Rooster Stage and it was packed tree to tree with 20-somethings all drinking beer and singing along to every song. After finally getting close enough to see and "feel" them, I really liked their stripped down sound. . We stayed in the area to see Patty Griffin, doing a solo set, her rapidly strumming small hands seem to torture her guitar.  Her new husband, Robert Plant, joined her for a song while Emmylou Harris and Buddy Miller watched from the wings.
Along the way we also caught some of Jerry Jeff Walker, with Todd Snider joining him for "Jaded Lover". Bill Kirchen did a smoking set, and although we just caught the end of it we could feel the lingering energy. I heard that Phil joined his brother Dave Alvin, who said, "It's always a good time when the Alvin brothers show up."  The Head and The Heart were excellent and another notable guest with Seasick Steve was another Led Zep member, John Paul Jones. Steve Earle and band closed out the Banjo Stage in the dark with Eric Burton's "San Francisco Nights."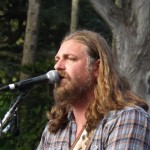 Sunday's music was better, but the weather was cooler. Ron Thomason, with the Dry Branch Fire Squad, told a touching story about how he met Warren at the festival and it wasn't till after they talked for awhile that he told him who he was. Typical Warren!
One of the few local bands, Tiny Television, were quite good and I look forward to their new album due next month. They were on the Porch stage, which is the smallest. This stage had some great music on Sunday including the Barr Brothers and White Buffalo; the latter whose rockin' set drew a huge and young adoring crowd.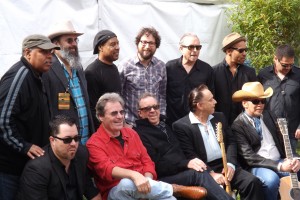 One of the two most anticipated sets of the weekend was Dwight Yoakam, who's never been to HSB before and did a tight and hit-filled set. Before Dwight, right next door on the Star stage was the other big draw, billed as Doug Sahm's Phantom Playboys. This was a band that Boz Scaggs put together with some studio cats with a big horn section. The band had done some rehearsing with some stellar Texas front men. Jimmie Vaughn and Derek O'Brien held down the lead guitars and Dave Alvin came out to sing a few ("Mendocino").  Steve Earle brought in "She's About A Mover", Delbert McClinton did a killer version of "Texas Me" and on and on… Dave Alvin told me that Boz and the band could've done another hour of Doug Sahm songs and hoped they could plan a tour. Needless to say, Doug would've loved it.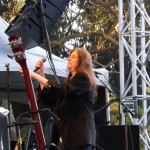 Meanwhile, you got Nick Lowe solo on one stage, Son Volt on another, and Dr. Ralph Stanley himself, for perhaps his last HSB, on the Banjo. The only thing is, the crowds by Sunday afternoon made moving around extremely difficult through the visually entertaining variety of music fans. We did finally make it back to the Arrow Stage for Luther Dickinson & The Wandering, who were excellent and much more rootsy and rockin' than their recent album would attest.
Back to the Towers Stage for the amazing Patti Smith, who held the audience in the palm of her hand; her grounded presence was refreshing, free of ego. She connected with the audience on a spiritual level, encouraging them to step into their power and be authentic. KPFA DJ Tim Lynch said that Patti's songs were like prayers. It was truly amazing and inspiring.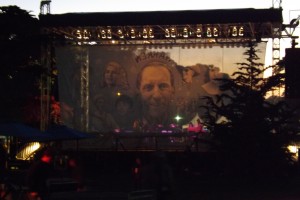 The Civil Wars were commanding the Rooster Stage. You couldn't get near the place, so we headed to the Banjo, which always ends with the great Emmylou Harris. She mentioned missing Warren Hellman quite a bit and brought out a whole bunch of guests for the closing songs including the O'Kane's touching "When We're Gone, Long Gone."  We'll miss you Warren, but you memory will live on for years to come.