Here's the best Americana and roots-type music releases for the week of January 22nd, 2012. Click the artist or album links to find out more.  The artist's names link to their websites and the CD title links go either Amazon or CD Baby for easy ordering.  Also check out the Freight Train Boogie podcasts featuring mostly songs from new Americana releases.  Playlists with players and iTunes links are posted at FTBpodcasts.com.
TED RUSSELL KAMP
Night Owl (Pomo)
Ted Russell Kamp has compiled a deeply personal collection of songs that draws inspiration from the wealth of American music ranging in style from rock and singer/songwriter to country soul. It is Kamp's most thoughtful, melodic and mature work yet as he captures the life of the traveling musician, plying his trade in the hours normally set aside for sleeping. He sings of endless strings of one-night gigs played in smoky bars all over the country as well as the landscape of neon lights and the lonely vastness that is Los Angeles, the city that Kamp calls home. (from press kit)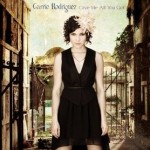 CARRIE RODRIQUEZ 
Give Me All You Got (12th Street)
Born in Austin, TX and raised on a broad range of music, Rodriguez began training on the violin at age five while simultaneously developing a taste for fiddling under the influence of her father, singer/songwriter David Rodriguez. On her fifth album these new original tunes run the gamut of intense emotions, from heartache to budding new love, from betrayal to resigned acceptance, and finally to the sheer joy of simply being alive, she says.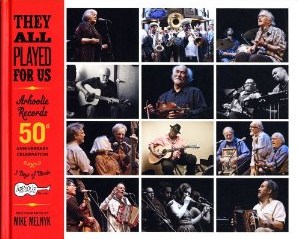 Various Artists
They All Played For Us: Arhoolie Records 50th Anniversary Celebration (Arhoolie)
In February of 2011 there was a benefit for the Arhoolie Foundation celebrating the 50th anniversary of the famous and influential label. Three joyous days of concerts and panel discussions were held in Berkeley, California at the Freight and Salvage to honor Chris Strachwitz and Arhoolie's 50 years of documenting and preserving traditional music. Artists include Ry Cooder, Taj Mahal, Santiago Jimenez Jr., Laurie Lewis, Peter Rowan, Treme Brass Band, Campbell Brothers, Savoy-Doucet Cajun Band, Country Joe McDonald, Barbara Dane and Bob Mielke's Jazz Allstars, and many more on this 4 CD set with a 192 page book.
Also new this week…
A BRIEF VIEW OF THE HUDSON – Querencia  (North/South)
CAMPER VAN BEETHOVAN – La Costa Perdida  (429)
CHICAGO FARMER - Backenforth, IL  (self released)
DOLLY VARDEN – For A While (Catapult)
MAX GOMEZ – Rule The World (New West)
JOHN DRISKELL HOPKINS & BALSAM RANGE -Daylight (self release)
THE LONE BELLOW – The Lone Bellow (Descendant)
RICH MAHAN - Blame Bobby Bare (Snortin' Horse)
JIMBO MATHUS & THE TRI-STATE COALITION – White Buffalo (Fat Possum)
OVERMOUNTAIN MEN – The Next Best Thing (Ramseur)
BUCK OWENS - Honky Tonk Man: Buck Sings Country Classics  (Omnivore Recordings)
DON RICH – Sings George Jones (Omnivore Recordings)
DANIEL ROMANO – Come Cry With Me (Normaltown/New West)
HENRY WAGONS – Expecting Company? (Thirty Tigers)
Coming out soon… KRIS KRISTOFFERSON, GURF MORLIX, BEN HARPER & CHARLIE MUSSLEWHITE, DALE WATSON, CHRIS STAMEY, RICHARD THOMPSON, MARY GAUTHIER, JUSTIN WELCH … more new releases
Here's a link to this week's Americana Music Association Americana Airplay Chart
Bill Frater
Freight Train Boogie