Here's all the best Americana and roots-type music releases for August 11th, 2016. Click the artist or album links to find out more. The artist's names link to their websites and the CD title links go to either Amazon, CD Baby or the artist's site for ordering or downloading.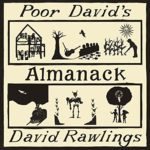 David Rawlings
Poor David's Almanack  (Acony Records)
This third Rawlings LP (two are credited to Dave Rawlings Machine) is the eighth joint outing with partner Gillian Welch. The maths and attribution matter, not least because Welch loyalists crave the follow-up to her 2011 album The Harrow & the Harvest, a hungry gap now filled by two Rawlings sets. While you can still hear distant fingers drumming, it would be disrespectful to complain beyond this paragraph – especially since Rawlings is an enlightened soul, happily playing second fiddle to Welch for two decades, and because Poor David's Almanack is by far the most Welch-like of Rawlings's releases. It is, ultimately, unfair to parse a Rawlings album looking for traces of Welch. It's wisest to thrill to an Americana record you can howl along to in the car until your heart feels replenished, to guitar work that stands among the finest. (edited from The Guardian review)
Jason Wilber
Reaction Time  (WilberTone Records)
Jason's  new record plays like a solitary tour bus rolling steadfastly through the countryside under mysterious skies. It's the sound of long, hushed hours spent scribbling in notebooks, dreaming up gorgeously mournful melodies and cascading harmonies set against jangling guitars, the searching songs underpinned by a persistent longing. Which all makes perfect sense. Wilber has spent the better part of the last 20 years gazing out at the world through the windows of planes, busses, cars and trains while on tour with country/folk icon John Prine.  "Making records, for me, is a process of discovery," Wilber says. "Often, the song you thought was gonna be great turns out to be ok, and the one you thought was just ok turns into something amazing. And that's because of all the collaboration—with the producer, with all the other musicians—and also the unknown, the mystery of what's gonna unfold when you start working on a song. You can never predict what's gonna happen. So as you go through the process, you have to keep your ears open for the things that are magic."
Also new this week…
Steve Azar & the King's Men – Down at the Liquor Store  (Ride Records)
Tim Bennett – The View from Here  (Sandy Beach Records)
A.J. Croce – Just Like Medicine (Compass Records)
Will Hoge – Anchors (Edlo Records)
Lara Hope and the Ark Tones – Love You To Life  (self released)
Hymn River Suite – Hundred Proof  ((self released)
Paul Kelly – Life Is Fine (Cooking Vinyl Records)
Lee Roy Parnell – Midnight Believer (BFD Records)
Jeremy Pinnell – Ties Of Blood And Affection  (Sofaburn Records)
Emily Saliers – Murmuration Nation  (Emily Saliers Music)
Ben Sollee – Ben Sollee and Kentucky Native  (Soundly Music)
Luke Sital – Singh –Time is a Riddle  (House Arrest Records)
Richard Thompson – Acoustic Classics II  (Beeswing Records)
Eric Westbury – Atomic Wilderness  (Barreltown Records)
Alex Williams – Better Than Myself  (Big Machine Records)
Coming out soon… Shelby Lynne & Allison Moorer, Chelsea Williams, Ben Sollee, Wild Ponies, Hymn River Suite, Ray Wylie Hubbard, Dale Ann Bradley, EmiSunshine, Beth Noble, Eli Cook, Chris Hillman, Eliot Bronson, Karen & the Sorrows, My Politic, The Jerry Douglas Band, Tom Russell, Steve Martin with The Steep Canyon Rangers, Radney Foster, Eilen Jewell …
Check out Americana Boogie Radio station!