Here's all the best Americana and roots-type music releases for December 1st, 2017 as the year draws to a close. Click the artist or album links to find out more. The artist's names link to their websites and the CD title links go to either Amazon, CD Baby or the artist's site for ordering or downloading.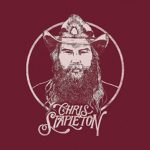 Chris Stapleton
From A Room: Volume 2  (Mercury Nashville Records)
Few would have predicted Chris Stapleton's dominance earlier this decade, but he's commanded the spotlight for long enough now — through show-stealing televised performances, major awards show wins and enviable album sales —to bring what it is about him that people are responding to into focus. The 39-year-old Kentucky native relies on Dave Cobb, Nashville's leading studio naturalist, to capture the leathery twang and blues-basted analog brawn of his power trio, in which it falls upon Stapleton to supply both sinewy rhythm guitar and snarling lead licks. Adult fans have received his sound as a rebuke of glossy, beat-driven country-pop trends. There's no clutter to it, nothing to hide behind, nothing competing with the furnace-blast force of Stapleton's belting. Wise and sensitive storyteller that he is, he knows that deprivation and loss are felt the most deeply when it's clear what's at stake. It's no wonder so many fans have come to count him as a musical hero.  (from NPR's First Listen)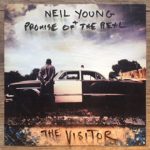 Neil Young & Promise of The Real
The Visitor (Reprise Records)
When Neil Young entered Shangri La Studio with the band Promise Of The Real a few months ago, there were a lot of images and feelings careening around his soul. The country was heading in a direction Young had never seen, even though up until then he thought he'd seen it all. But something different was happening, and it had gotten inside his music. "I'm a Canadian by the way and I love the USA," he sings on the first song "Already Great." The ethos of The Visitor can be summed up in the refrain of "Already Great" where Young insists, "Already great, you're already great. You're the promise land, the helping hand. No wall. No hate. No fascist USA."  From those words, Neil Young was ready to take a musical journey on his new album like he had never taken before. It was one where he'd even surprise himself, always the mark of a creative leap. By the end of the recording sessions, he knew he'd made his most diverse album going all the way back to Harvest in 1972, when America was also in the throes of becoming unhinged. Neil Young didn't blink then, and he is not blinking now. (from press release)
Also new this week…
Grayson Capps – Scarlett Roses  (The Royal Potato Family)
Loose Cattle – Seasonal Affective Disorder  (Low Heat Records)
Coming out soon… Robert Ellis & Courtney Hartman, Tommy Emmanuel, The Steep Canyon Rangers, The Ben Miller Band, Lisa Morales …
Check out Americana Boogie Radio station!