Here's all the best Americana and roots-type music releases for December 8th, 2017. As the year draws to a close, this will probably be the last week of new releases until next year. Click the artist or album links to find out more. The artist's names link to their websites and the CD title links go to either Amazon, CD Baby or the artist's site for ordering or downloading.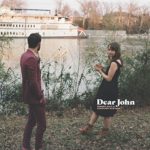 Robert Ellis & Courtney Hartman
Dear John (Refuge Foundation for the Arts)
John Hartford is not a household name but he certaily should be. Though years after his death in 2001, he's up there amongst the treasured gods in the eyes of so many modern working artist. He's certainly an influence on Robert Ellis and Courtney Hartman, who toured together and developed an artistic symbiosis on the road before recording Dear John, their tribute to the work of Hartford released through Cory Chisel and Adriel Denae's Refuge Foundation for the Arts.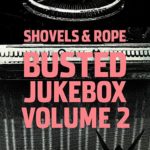 Shovels & Rope 
Busted Jukebox Volume 2 (New West Records)
Two years after the first iteration — which featured team-ups with Shakey Graves, Lucius, Preservation Jazz Hall Band, and more covering famed cuts from the likes of Elvis Costello, Guns N' Roses, and Nine Inch Nails — the folk-rock duo (and real-life couple) are ready to share version two. This one features S & R's Cary Ann Hearst and Michael Trent joined by Brandi Carlile, Hayes, Carll, John Moreland, and others covering everybody from Leonard Cohen to Willie nelson to The Breeders.
Also new this week…
Emily Clement – Dying to Know  (Mastermind Recordings)
Ian Cory Craft – Ian Cory Craft  (Mastermind Recordings)
Robert Finley – Goin' Platinum!  (Easy Eye Sound/Nonesuch Records))
Chris Thile – Thanks for Listening (Nonesuch Records)
Cody Jinks – Less Wise (Modified Reissue 2017)  (Cody Jinks Music)
Various Artists – Farewell, Alligator Man: a Tribute to the Music of Jimmy C. Newman  (Valcour Records)
Various Artists – At the Louisiana Hayride Tonight  (Bear Family Records)  (20-disc box set)
,
Coming out early next year… Tommy Emmanuel, The Steep Canyon Rangers, The Ben Miller Band, Sam Lewis, Mary Gauthier, Brandi Carlile, Caleb Caudle, Lisa Morales …
Check out Americana Boogie Radio station!