Here's all the best Americana and roots-type music releases for January 19th, 2018. Click the artist or album links to find out more. The artist's names link to their websites and the CD title links go to either Amazon, CD Baby or the artist's site for ordering or downloading.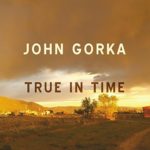 John Gorka
True In Time (Blue Chalk/Red House Records)
The past is present on "True In Time." John Gorka digs into his songwriting archives for several tunes, including two he had lost, and the title cut was inspired in part by a 1970s Paul Simon song. But the topics Gorka covers — love, guitars, dogs — never really go out of style. And as always, his material benefits from his warm tenor, eye for detail and neat turns of phrase. Take "The Ballad of Iris & Pearl," a tall tale about a pioneering partnership that supposedly influenced the Carter Family and Elvis, with the punchline to be found in the liner notes. There's more music history on "Blues With a Rising Sun," a beautiful love letter to the late bluesman Son House. "The Body Parts Medley," a crowd favorite at Gorka concerts for years, answers the challenge to find a rhyme for "calves." Best of all is the title cut, which pairs a fetching melody with tempo shifts. "Maybe every song comes true in time," he sings, bridging the past and present.  (edited from Washington Post review)
Dusty Rust – Stolen Horse  (independent)
Tommy Emmanuel – Accomplice One  (CGP Sounds)
R. Finn – Collecting Trip  ( Heritage Recording Co.)
First Aid Kit – Ruins (Columbia Records)
Caitlyn Smith – Starfire  (Monument Records)
Coming out soon…  The Steep Canyon Rangers, The Ben Miller Band, Amigo, Calexico, Laura Benitez and the Heartache, Simon Linsteadt, David Myles,  Sam Lewis, Mary Gauthier, H.C. McEntire, Brandi Carlile, Letitia VanSant, Sherman Ewing, Paul Luc, Caleb Caudle, Lisa Morales, Chris Fullerton, J.D. Wilkes, Raven and Red, Craig Gerdes, Lynn Taylor & the Barflies, John McCutcheon, The Reverend Shawn Amos, Darling West, I'm With Her, Brew Davis, Grant-Lee Phillips, Ruby Boots, Jim White, Janiva Magness, Ned Hill, GB Roots, Chris Smither, Great Peacock, Field Report …
Check out Americana Boogie Radio station!