Here's all the best Americana and roots-type music releases for January 26th, 2018. Click the artist or album links to find out more. The artist's names link to their websites and the CD title links go to either Amazon, CD Baby or the artist's site for ordering or downloading.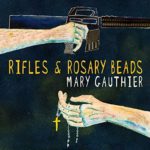 Mary Gauthier
Rifles & Rosary Beads   (In The Black Records)
Each year it is estimated that over 7,400 current and former members of the United States Armed Services take their own lives. The songs featured on Rifles & Rosary Beads were all co-written as part of Songwriting With Soldiers, which is a not-for-profit program coordinating retreats that bring professional songwriters together with wounded veterans and active duty military. Participants have shared that the experience of songwriting was life changing for them, some even said life saving.Mary Gauthier has used songwriting herself to work through addiction and childhood abandonment as an orphan. Now she is taking that same therapeutic experience to Rifles & Rosary Beads.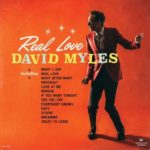 David Myles
Real Love  (Little Tiny Records)
Rock n roll's diverse, electrifying roots dig deep into David Myles tenth album, Real Love. You can hear them in the old-school Johnny Cash shuffle and lightning-in-a-bottle twang of "Night And Day." They pull you by the hand and dance slowly to the swingy drums and 50s-era, Roy Orbison croon of "Easy."  Over Real Love's 13 tracks, written as razor-sharp as Myles signature suits, those roots grow into a spectacular family tree of American musical tradition with all its blood, sweat, and tears that s as endlessly entertaining as it is riveting. Real Love is an absorbing rejuvenation of rock 'n' roll's dramatic power—it will make you dance, weep, and never forget where you were the first time you felt it. That's how you know love is real, after all.  (from artist's bio)
Also new this week…
Amigo – And Friends   (Schoolkids Records)
Laura Benitez and the Heartache – With All Its Thorns  (self released)
Calexico – The Thread That Keeps Us   (Anti/Epitaph Records)
Jim Cuddy – Constellation  (Warner Music Canada)
Mark Erelli – Mixtape (self released)
Simon Linsteadt – February  (Sunny Deep Records)
Marie/Lepanto –  Tenkiller (Big Legal Mess Records)
H.C. McEntire – Lionheart  (Merge Records)
The Ben Miller Band – Choke Cherry Tree  (New West Records)
Lisa Morales – Luna Negra and the Daughter of the Sun  (Soundly Music)
Abe Partridge – Cotton Fields and Blood for Days  (Skate Mountain Records)
Christine Rosander – Been A Long Time (Devcat Records)
The Steep Canyon Rangers – Out in the Open  (Ramseur Records)
Various Artists – American Folk featuring Joe Purdy and  Amber Rubarth  (American Folk Records)
Various Artists – Strange Angels: In Flight with Elmore James  (Sylvan Songs)
Coming out soon… Brandi Carlile, Letitia VanSant, Sherman Ewing, Paul Luc, Caleb Caudle,  J.D. Wilkes, Caroline Cotter, Raven and Red, Wade Bowen, Craig Gerdes, Richmond Fontaine, Lynn Taylor & the Barflies, Erica Binn, Szlachetka, John McCutcheon, Ed Romanoff, The Reverend Shawn Amos, Darling West, I'm With Her, Brew Davis, Grant-Lee Phillips, Ruby Boots, Jim White, Janiva Magness, Ned Hill, Mary Chapin Carpenter, GB Roots, Chris Smither, Great Peacock, Field Report, Rod Picott, Ben Harper and Charlie Musselwhite …
Check out Americana Boogie Radio station!