Here's all the best Americana and roots-type music releases for July 14th, 2016. Click the artist or album links to find out more. The artist's names link to their websites and the CD title links go to either Amazon, CD Baby or the artist's site for ordering or downloading.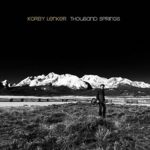 Korby Lenker
Thousand Springs  (Soundly Music)
"For me, the two most important qualities of good art are originality and meaning. By original, I mean you've got to tell your own story and no one else's," says Lenker, "one thing that was good for me when I moved to Nashville was that it forced me to really dig in and figure out what I did that was different than what everyone else was doing." Korby hatched an ambitious plan for his 7th album. After raising $20K in a crowdfunding campaign, he purchased some recording gear and drove out to his native Idaho to see what would happen. He recorded the heart of each song — the guitar and vocal — in different places important to him personally. He recorded during the day and slept in a tent at night. The rest was recorded in 7 states and features almost 30 different artists from the young folk scene, including Nora Jane Struthers, Critter Eldridge, Anthony Da Costa, Amy Speace, Molly Tuttle, Carrie Elkin, Kai Welch and many more. Finally, in full-circle flourish, Lenker brought the album back to the present, finishing up the recordings at his home in East Nashville.
Also new this week…
Applewood Road – Applewood Road  (Gearbox Records)
Railroad Earth – Captain Nowhere (Black Bear Records)
Twisted Pine – Twisted Pine  (Signature Sounds Recordings)
Various Artists – Strange Freedom: Songs of Love and Protest  (Cafe Rooster Records)
Coming out soon… Moses Guest, Mike Younger, Amber Cross, Tyler Childers, Sherman Holmes, Moot Davis, Eric Westbury, Shelby Lynne & Allison Moorer, Wild Ponies, Ray Wylie Hubbard, Beth Noble, Dave Rawlings, Hard Working Americans, Elijah Ocean, Chris Hillman, The Jerry Douglas Band…
Check out Americana Boogie Radio station!