Here's all the best Americana and roots-type music releases for July 21st, 2016. Click the artist or album links to find out more. The artist's names link to their websites and the CD title links go to either Amazon, CD Baby or the artist's site for ordering or downloading.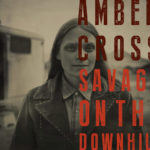 Amber Cross
Savage on the Downhill  (independent)
"Every once in a while music comes along that you just know instantly that you are going to like. Amber's melodies are more than complimented by thoughtful, interesting and honest lyrics, along with fine, understated musicianship that proves the old adage that "less is more". The result is a set of superbly crafted, well-rounded, addictive songs that stay with you long after the last notes have ended, and make you hungry for more."  (Duncan Warwick, Country Music People Magazine, UK)
"What can I say about Amber Cross but that she will knock you over! Amber takes no prisoners!"  (Ray Bonneville, Producer)
Moot Davis
Hierarchy of Crows (independent)
Hierarchy of Crows, Davis' fifth studio album, was recorded entirely in Hollywood, California starting back in 2014 during brief breaks from the road. There is a distinct, harder edge to the songs while still retaining his honky-tonk & Americana roots. Moot moves into heavy riff-driven rock and roll while creating a lush sonic landscape of danger, loss, rebellion and wounds that will never heal. (from his website)
Also new this week…
Nicole Atkins – Goodnight Rhonda Lee  (Single Lock Records)
Sherman Holmes – The Sherman Holmes Project: The Richmond Sessions  (M.C. Records)
Chris Robinson Brotherhood – Barefoot in the Head  (Silver Arrow Records)
Whiskey Shivers – Some Part Of Something  (Clean Bill Music)
Mike Younger – Little Folks Like You and Me  (independent)
Coming out soon… Moses Guest, Tyler Childers, Eric Westbury, Shelby Lynne & Allison Moorer, Wild Ponies, Ray Wylie Hubbard, Beth Noble, Dave Rawlings, Hard Working Americans, Elijah Ocean, A.J. Croce. Eli Cook, Chris Hillman, The Jerry Douglas Band, Tom Russell…
Check out Americana Boogie Radio station!