Here's all the best Americana and roots-type music releases for the week of March 17th, 2016. Click the artist or album links to find out more. The artist's names link to their websites and the CD title links go to either Amazon, CD Baby or the artist's site for ordering or downloading.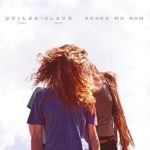 Quiles & Cloud
Shake Me Now (Compass Records)
When Maria Quiles (vocals and guitar) and Rory Cloud (vocals and guitar) met in 2011, both were adrift. Maria had quit her job and moved in with her uncle in order to pursue music full-time. Rory had left behind a stable schedule of gigs and music lessons in Southern California to seek a new music community in San Francisco, where he first heard Maria at an open mic.  "As a lead guitar player, I could immediately hear myself in her songs." Rory remembers. They started playing together shortly thereafter, and it was an instant fit. Shake Me Now is stripped-down, yet dense. There are musical and lyrical traces of the blues, bluegrass, folk, rock, soul, and classical music. Quiles & Cloud have already traveled far. As they see it, though, this is only the beginning of a lifelong journey—one of exploring connection, deepening their partnership, and examining the threads that tie us all together. (from Compass Records)
Also new this week…
Samantha Fish – Chills & Fever (Ruf Records)
Rich Minus – This Son Is a Stranger to You  (Saustex Records)
Lindi Ortega – Til the Goin' Gets Gone  (Soundly Music)
Tedeschi Trucks Band – Live From The Fox Oakland  (Fantasy Records)
Coming out soon..Peter Mulvey, Sera Cahoone, Bob Dylan, Drew Holcomb & The Neighbors, Samantha Crain, Matt Urmy, Jessi Colter, Rodney Crowell, Ruthie Foster, Tim O'Brien, The Wild Reeds, Andrew Combs, Lawson & Williams, The Mavericks, David Olney, Darden Smith, Mipso, Malcolm Holcombe, Ray Davies, Blackfoot Gypsies, The Suitcase Junket, John Moreland, Lillie Mae, Chris Shiflett,…
Check out Americana Boogie Radio station!