Here's all the best Americana and roots-type music releases for the week of March 24th, 2016. Click the artist or album links to find out more. The artist's names link to their websites and the CD title links go to either Amazon, CD Baby or the artist's site for ordering or downloading.
Jessi Colter
The Psalms  (Sony Legacy Recordings)
The new album by Jessi Colter features 12 original, spontaneous recordings, with lyrics drawn from the most timeless and sacred poems, the Psalms. Recorded with producer/guitarist/author, Lenny Kaye with whom Jessi became dear friends while he worked on her late husband Waylon Jennings autobiography The Psalms encapsulates the universal yet simple joyous mysteries of this spiritual text resulting in an altogether unique and transfixing album.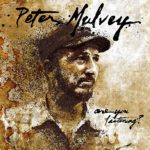 Peter Mulvey
Are You Listening? (Righteous Babe Records)
This record is a labor of love. Producer An DiFranco was truly amazing: she opened her home to me, brought her wonderful touring band to bear, and coaxed the best performances out of us we could give. And now I'm launching this little paper boat of whatever wit and beauty and tenderness I could muster on the waters of 2017. In true indie spirit, my deal with Righteous Babe is a licensing deal: they provide distribution and a megaphone to the world, and I front all the costs of recording, manufacture, and publicity.
Also new this week…
Sera Cahoone – From Where I Started  (Lady Muleskinner Records)
Samantha Crain – You Had Me at Goodbye  (Ramseur Records)
Johnny Flynn – Sillion  (Transgressive Records)
Ruthie Foster – Joy Comes Back (Blue Corn Music)
Drew Holcomb & The Neighbors – Souvenir  (Magnolia Music)
Bridget Kearney – Won't Let You Down  (Signature Sounds)
Rich Minus – This Son Is a Stranger to You  (Saustex Records)
Lindi Ortega – Til the Goin' Gets Gone  (Soundly Music)
Coming out soon… Bob Dylan, Matt Urmy, Rodney Crowell, James Talley,Tim O'Brien, The Wild Reeds, Andrew Combs, Lawson & Williams, Malcolm Holcombe, The Mavericks, David Olney, Jason Eady, Darden Smith, Various Artists – "Outlaw: Celebrating the Music of Waylon Jennings", Jeb Loy Nichols, Mipso, Ray Davies, Blackfoot Gypsies, Front Country, The Suitcase Junket, John Moreland, Lillie Mae, Gwyneth Moreland, Chris Shiflitt, Joan Shelley, Willie Nelson, Various Artists – "Cover Stories: Brandi Carlile Celebrates 10 Years of the Story", Colter Wall, Justin Townes Earle …
Check out Americana Boogie Radio station!