Here's all the best Americana and roots-type music releases for the week of March 31st, 2016. Click the artist or album links to find out more. The artist's names link to their websites and the CD title links go to either Amazon, CD Baby or the artist's site for ordering or downloading.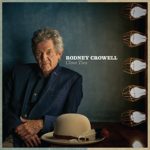 Rodney Crowell
Close Ties (New West Records)
Close Ties is at once Crowell's most intimate record and his most accessible, the product of years of understanding the ways songs can enter—and be entered by—life. "It's a loose concept album, you could say," he says. "And the concept is related to how you tell stories about yourself. Having a few years ago written a memoir, my sensibilities toward narrative—especially trying to find a common thread in different pieces of writing—had become a part of my songwriting process." Close Ties is a roots record, in the sense that Crowell himself has deep roots that stretch back into the alternative country scene of the early seventies. The rise of Americana music has struck a nerve with Crowell. "I have declared my loyalty to Americana. It's a hard category for people to get their heads around, or at least the terminology is. But all the people who represent it—Townes van Zandt, Guy Clark, Lucinda Williams, Steve Earle and more recent stars like John Paul White and Jason Isbell—share a common thread, and that thread is poetry. Whether they are actual poets or their music exemplifies a poetic sensibility, generally speaking, the Americana artist shuns commercial compromise in favor of a singular vision. Which resonates with me." There is also a powerful undercurrent of the blues running through the record. "Recently, I think—I hope—that my study of the blues is starting to show up in my music. Those artists, whether it's Lightnin' Hopkins or John Lee Hooker or the acoustic Delta players, connected to something fundamental. With that in mind, I'm trying to move forward but also get back there."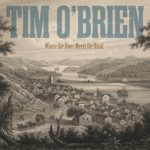 Tim O'Brien
Where The River Meets The Road  (Howdy Skies Records)
Tim's 14th album celebrates the music of his native state of West Virginia. The collection mixes Bluegrass, Country, Old-Time and Americana with songs from O'Brien, Bill Withers, Hazel Dickens, and Billy Edd Wheeler, among others. Guests on the recording include Chris Stapleton and Kathy Mattea, as well musicians Stuart Duncan and Noam Pikelny. The title track tells the story of Tim's great grandfather, who in 1851 emigrated from Ireland to Wheeling WV. Back then, the new National Road had just connected Baltimore and the east coast to the Ohio River. Hence, Wheeling was Where the River Meets the Road. The cover image is an engraving from that time, showing what young Thomas O'Brien would have seen as he completed his journey.
Also new this week…
Timothy Seth Avett as Darling – IV  (Ramseur Records)
Bob Dylan – Triplicate  (Columbia Records)
Jake Xerxes Fussell – What in the Natural World  (Paradise of Bachelors)
Lawson & Williams – Chapter 3 (Mountain Home Recording Company)
Aimee Mann – Mental Illness  (Super Ego Records)
The Mavericks – Brand New Day  (Mono Mundo Recordings)
David Olney – Don't Try To Fight It  (Red Parlor Records)
James Talley – Tryin' Like The Devil – 1976 – 2016  (Cimarron Records)
Matt Urmy – Out of the Ashes  (Tritone Media/Dualtone Records)
Coming out soon… Andrew Combs, Malcolm Holcombe, Jason Eady, The Wild Reeds, Darden Smith, Cory Brannan, Various Artists – "Outlaw: Celebrating the Music of Waylon Jennings", Jeb Loy Nichols, Mipso, Ray Davies, Blackfoot Gypsies, Front Country, The Suitcase Junket, John Moreland, Leslie Mendelson, The String Cheese Incident, Lillie Mae, Angaleena Presley, Gwyneth Moreland, Chris Shiflitt, Garland Jeffreys, Joan Shelley, Willie Nelson, Various Artists – "Cover Stories: Brandi Carlile Celebrates 10 Years of the Story", Colter Wall, Justin Townes Earle, Pokey LaFarge, Ed Dupas …
Check out Americana Boogie Radio station!