Here's all the best Americana and roots-type music releases for the week of May 12th, 2016. Click the artist or album links to find out more. The artist's names link to their websites and the CD title links go to either Amazon, CD Baby or the artist's site for ordering or downloading.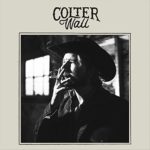 Colter Wall
Colter Wall  (Young Mary's Record Co.)
Wall's debut album was produced by Dave Cobb who puts the Saskatchewan, Canada native in the spotlight in North America and beyond after first making waves with his 2015 EP, Imaginary Appalachia. Like a crusty old bard who pulls his pack mule up to the front of a frontier saloon, or a trapper who parks a sleigh packed with pelts and trinkets to trade in front of a warm inn, walking in the door to earn a meal and respite by sewing tales and entertaining locals for the coins they throw, Colter Wall bends to the task of timeless storytelling, squinting his eyes as he sings like the exit of the stories is so heartfelt it's painful, and hopes enough will listen to justify the effort. His music is much older than his age, and whether it's a tender love story, or a torrid murder tale, each story is delivered with care. The most remarkable takeaway from Colter Wall is his deep, billowy voice, marking the centerpiece of his music.  (from Saving Country Music)
Also new this week…
Jim Avett and Family – For His Children and Ours (Ramseur Records)
Aaron Burdett – Refuge  (Organic Records)
Jake La Botz – Sunnyside  (Hi-Style Records)
Robyn Ludwick – This Tall To Ride (Late Show Records)
Larissa Tandy – Grip (independent)
Coming out soon… Ed Dupas, Pokey LaFarge, Jared Tyler, The Two Tracks, Daniel Romano, The Mastersons, Hardened and Tempered, Bobby Bare, Will Payne Harrison, The Secret Sisters, Ed Dupas, Sara Petite, Eric Tollefson, Justin Townes Earle, Rachel Baiman, Jade Jackson, Molly Tuttle, Steve Earle, North Mississippi Allstars, Jason Isbell, Shannon McNally, Jeff Tweedy, Phoebe Hunt…
Check out Americana Boogie Radio station!