Here's all the best Americana and roots-type music releases for November 17th, 2017 as the year winds down. Click the artist or album links to find out more. The artist's names link to their websites and the CD title links go to either Amazon, CD Baby or the artist's site for ordering or downloading.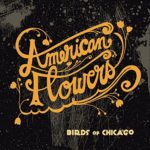 Birds of Chicago
American Flowers  (Signature Sounds Recordings)
Husband and wife, JT Nero and Allison Russell had recently finished recording a new album Love in Wartime, to be released next year. Nero had a suite of songs that didn't feel quite at home on the new one. Having relocated to Nashville, they decided to throw themselves their own welcome to town party by recording an acoustic E.P. at Steve Dawson's Henhouse Studio. The E.P.  rounds out Birds of Chicago's offering of healing, communion and celebration of life in a dark and troubled time. Proceeds from American Flowers will benefit Chicago's South Side based Teen Living Programs – a non-profit that builds community, hope and opportunity for youth who are homeless and at risk.
Also new this week…
The Hens – Chicon (Topless Records)
Darrell Scott – Live at the Station Inn  (Soundly Music)
Mavis Staples – If All I Was Was Black   (Anti/Epitaph Records)
Various Artists – Bloodshot Records' 13 Days of Xmas  (Bloodshot Records)
Jim White – Waffles Triangles & Jesus  (independent)
Coming out soon… Chris Stapleton, Robert Ellis & Courtney Hartman, Tommy Emmanuel , The Steep Canyon Rangers, Lisa Morales …
Check out Americana Boogie Radio station!