Here's all the best Americana and roots-type music releases for November 3rd, 2017. Click the artist or album links to find out more. The artist's names link to their websites and the CD title links go to either Amazon, CD Baby or the artist's site for ordering or downloading.
Samantha Fish
Belle of the West  (Ruf Records)
Fish recorded Belle of the West in the relaxed, rural creative atmosphere of the legendary Zebra Ranch Studios in the North Hills of Mississippi with producer Luther Dickinson (of North Mississippi Allstars fame), with whom she worked previously on her 2015 album Wild Heart. The studio team included some of the region's most iconoclastic musicians, including Dickinson, solo artist and Jack White associate Lillie Mae, much-traveled juke-joint blues artist Lightnin' Malcolm, Squirrel Nut Zippers founder Jimbo Mathus, upright bassist and beloved solo artist Amy LaVere, Tikyra Jackson, Trina Raimey and Shardé Thomas, granddaughter of the legendary Southern bluesman Otha Turner.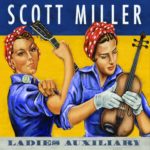 Scott Miller
Ladies Auxiliary  (F.A.Y. Recordings)
Fiery roots-rock singer/songwriter Scott Miller presents Ladies Auxiliary, his first album in four years. Raised on a cattle farm in Virginia, and well- versed in topics ranging from Greek mythology to modernist poetry.  A founding member of Knoxville-based V-Roys, Miller's raucous style influenced the newer generation of Alt-Country revelry and what is now known as Americana. The album title is a tip of the hat to Miller's backing band for this recording: Bryn Davies (bass); Rayna Gilbert (fiddle/banjo); Jen Gunderman (keys); Deanie Richardson (fiddle); Megan Carchman (drums) and Anne McCue (guitar and producer). The results are another testament to Scott's uncanny ability to reach the listener with tuneful melodies wrapped around thoughtul lyrics and topical subject matter. (from press release)
Also new this week…
Big Head Todd and The Monsters – New World Arisin'  (Big Records)
Blitzen Trapper – Wild and Reckless  (LKC Recordings)
Jim Byrnes – Long Hot Summer Nights  (Black Hen Music)
The Contenders – Laughing with the Reckless  (Rock Ridge Music)
Tommy Emmanuel & David Grisman – Pickin'  (Acoustic Disc)
Drew Kennedy – At Home in the Big Lonesome (Atlas Aurora Records)
Boris McCutcheon – I'm Here Let Me In (independent)
The Ribeye Brothers – All Hat, No Cattle  (MainMan Records)
Coming out soon… Packway Handle Band, Mavis Staples, Birds of Chicago, Dan Reeder, Chris Stapleton …
Check out Americana Boogie Radio station!