Here's all the best Americana and roots-type music releases for October 13th, 2017. Click the artist or album links to find out more. The artist's names link to their websites and the CD title links go to either Amazon, CD Baby or the artist's site for ordering or downloading.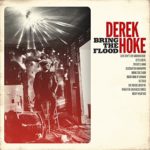 Derek Hoke
Bring the Flood  (Little Hollywood Records)
Dark times call for dark songs. At least that's how East Nashville based singer/songwriter Derek Hoke sees it. On his new album, the portentously titled Bring the Flood, Hoke dives into a sound far more ominous, threatening, and anxiously introspective than the music on his last albums would suggest. Never one to release the same record twice, this album nevertheless marks a substantial shift in Hoke's approach away from the rootsy, singer/songwriter vein and towards a more edgy, low boil, subtle country infused rock oriented style. "It seemed like a dark cloud coming over America, watching a lot of people hurting, going through hard times, harder than ever." He lodged those visual images into musical protagonists, flowing melodies and, with Green's assistance, an overall conceptual world where each track feels connected to the last. That creates an austere, rugged but not stripped down landscape, both hypnotic and earthy in its atmosphere.
Also new this week…
The Barr Brothers – Queens of the Breakers  (Secret City Records)
Joshua Davis – The Way Back Home  (Soundly Music)
Kevin Fisher – Beer Me (37 Records)
Jackie Greene – The Modern Lives Vol. 1  (Blue Rose Music)
Ryan Koenig – Two Different Worlds  (Big Muddy Records)
Lydia Loveless –  Boy Crazy and Single(s)  (Bloodshot Records)
Jeffrey Martin – One Go Around (Fluff & Gravy Records)
Masontown – In This Time  (self released)
Travis Meadows – First Cigarette  (Blaster Records)
Matt Patershuk – Same As I Ever Have Been  (Black Hen Music)
Coming out soon…  Bob Bradshaw, Tyminski, Dori Freeman, Margo Price, Lee Ann Womack, The Deep Dark Woods, Bela Fleck and Abigail Washburn, Packway Handle Band, The Wailin' jennys, Monocle Band, Thor Platter, Dan Reeder …
Check out Americana Boogie Radio station!