Here's all the best Americana and roots-type music releases for September 15th, 2017. Click the artist or album links to find out more. The artist's names link to their websites and the CD title links go to either Amazon, CD Baby or the artist's site for ordering or downloading.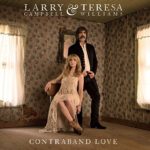 Larry Campbell & Teresa Williams
Contraband Love (Red House Records)
The opening track to album number two from Americana husband/wife duo Campbell and Williams is "The Other Side of Pain." It's an angry and gripping middle finger from a jilted partner to their ex. While the following tracks aren't quite as vitriolic, there's no doubt that Campbell, composer or co-writer for all but three songs, has tapped into altogether darker scenarios for this set. Both singers have versatile voices with Campbell's natural gruffness a nice yin to his wife's more powerful croon. But when Williams locks into a Linda Ronstadt vibe on the bittersweet, melancholy, roots pop "Save Me from Myself," it's clear she's the vocal powerhouse of the two. On Contraband Love, Williams and Campbell reaffirm what anyone who has experienced them live can attest to; that this couple has tapped into the dusky spirit of Americana in all of its forms (folk, blues, rock and roll, gospel etc.) and created a unique sound inspired by the past, that is spirited, stirring and timeless. (edited from American Songwriter)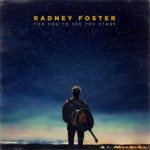 Radney Foster
For You to See the Stars  (Devil's River Records)
For You To See The Stars is a project comprised of two parts – a book and a CD. The book is a collection of short stories published by Working Title Farm. Though the stories are fiction, they are informed by Foster's upbringing on the Mexican border in Del Rio, TX. While it's evident that Texas has always been an inspiration for his music, in For You To See The Stars, Foster explores various landscapes, both physical and emotional, from the story of a retired spy in New Orleans, to the tale of a Dallas lawyer wandering the Rocky Mountains in search of redemption, to a post apocalyptic parable of a world in endless war. For You To See The Stars is Foster at his classic storytelling best, both as a seasoned singer/songwriter and a soulful writer of prose. Although both components stand alone as separate pieces of art– they are meant to be enjoyed together for a reason. When coupled, the book and CD give fans a deeper insight into the subconscious of Foster's storytelling. Journalist Peter Cooper puts it best, "Radney Foster writes with uncommon depth of emotion, humor, empathy, and clarity. I'm going to ask him how he does it, and if he tells me I'll let you in on his secret. Until then, it's best that we read, wonder, and revel."
Also new this week…
The Paula Boggs Band – Elixir – The Soulgrass Sessions  (Boggs Media LLC)
Bruce Cockburn – Bone On Bone (True North Records)
Deer Tick – Deer Tick, Vol. 1, Deer Tick, Vol. 2   (Partisan Records)
Flatland Tourists – Carry Me Home  (Little King Records)
Dennis Johnson & The Mississippi Ramblers – Rhythmland (Root Tone Records)
The Lil' Smokies – Changing Shades  (independent)
The Texas Gentlemen – TX Jelly (New West Records)
Willie Watson – Folksinger Vol. 2  (Acony Records)
Sunday Wilde & Reno Jack – Two (Hwy 11 Records)
Hank Williams III – Greatest Hits  (Curb Records)
Lizz Wright – Grace (Concord Records)
Rusty Young – Waitin' for the Sun  (Blue Élan Records)
Coming out soon… Chris Hillman, Steve Martin with The Steep Canyon Rangers, Max Gomez, Stephen Stills & Judy Collins, Jon Langford, Hiss Golden Messenger, Van Morrison, Eilen Jewell, Bruce Cockburn, Lucinda Williams, Lee Ann Womack, Bob Bradshaw, Sarah Lou Richards, Ryan Koenig, Thomm Jutz, Masontown, The Roseline, Dori Freeman, The White Buffalo, Thor Platter …
Check out Americana Boogie Radio station!