Here's all the best Americana and roots-type music releases for September 1st, 2017. Click the artist or album links to find out more. The artist's names link to their websites and the CD title links go to either Amazon, CD Baby or the artist's site for ordering or downloading.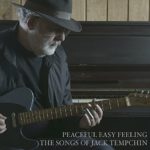 Jack Tempchin
Peaceful Easy Feeling : The Songs of Jack Tempchin  (Blue Elan Records)
As a solo artist, Tempchin has recorded twelve albums over the years. This is a poignant tribute to his fabled friendship with his "musical brother," Glenn Frey, and features Jack's own renditions ten of their songs, performed solo and with guest vocalists Rita Coolidge, Janiva Magness, Chris Hillman and Herb Pedersen. "This album," wrote Jack in the liner notes, "is dedicated to my great friend of 46 years, Glenn Frey. Glenn and I always had a fabulous time writing songs together. We would talk about our lives and laugh. He was the funniest person I've ever had the pleasure to know. It was my great good fortune that my buddy happened to be one of the best songwriters of all time. Goodbye my friend and musical brother. Thanks for all the wonderful times." Raised in San Diego, Jack became one of America's most prolific and widely-covered songwriters, crafting classics for himself as a solo artist and band member (as part of the legendary Funky Kings) as well as for a host of other artists, including George Jones, Emmylou Harris, Tom Waits, Glen Campbell, Jackson Browne, Dwight Yoakam, Linda Ronstadt, Tanya Tucker, and many more. His most famous non-Eagles hit, first recorded by the Kings, was "Swaying To The Music (Slow Dancing)," a giant hit for Johnny Rivers, and now a modern standard.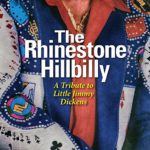 Various Artists
The Rhinestone Hillbilly: A Tribute to Little Jimmy Dickens  (WV Music Hall Of Fame)
Country and bluegrass hero Little Jimmy Dickens was a true American icon, but he was a West Virginian first. So when the West Virginia Music Hall of Fame contacted other WVHOF inductees and noted Mountain State musicians about recording a tribute to the "little but proud" hillbilly hero, they enthusiastically joined the project. Artists include Tim O'Brien, John Lilly, Kathy Mattea, Larry Groce, Charlie McCoy, Russ Hicks and more.
Also new this week…
Jonny Lang – Signs (Concord Records)
Joan Osborne – Songs of Bob Dylan  (Womanly Hips Records)
Blake Berglund – Realms  (Oceanman Records)
Jordyn Pepper – Mountain Rain  (Howlin' Dog Records)
Hayley Thompson-King – Psychotic Melancholia  (Hard To Kill Records)
Walter Trout – We're All In This Together  (Provogue Records)
Coming out soon… David Ramirez, Ali Handal, Chris Hillman, Tom Russell, Neil Young, Steve Martin with The Steep Canyon Rangers, Mark Olson, Tom Irwin, Gregg Allman, Willie Watson, Cale Tyson, Jake Bugg, Stephen Stills & Judy Collins, Rusty Young, Jon Langford, Larry Campbell & Teresa Williams,  Radney Foster, Charlie Parr, Hiss Golden Messenger, Van Morrison, Eilen Jewell, Bruce Cockburn, Lucinda Williams, Jolie Holland & Samantha Parton, Lee Ann Womack, Sarah Lou Richards, Thomm Jutz, Masontown, The Roseline, Dori Freeman, The White Buffalo …
Check out Americana Boogie Radio station!