Here's all the best Americana and roots-type music releases for September 29th, 2017. Click the artist or album links to find out more. The artist's names link to their websites and the CD title links go to either Amazon, CD Baby or the artist's site for ordering or downloading.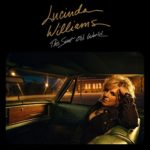 Lucinda Williams
This Sweet Old World  (Highway 20 Records)

Lucinda Williams had a one-word response when her husband and manager Tom Overby suggested that she re-record her 1992 album Sweet Old World: "Really?" Although Williams has consistently performed a few songs from the album over the years in concert, including the title track and "Pineola," she felt that she had outgrown most of the others and was reluctant to revisit it. That was until she listened to the songs with fresh ears."After we got in the recording studio and we got going, I got really pumped up about it," says Williams, who re-recorded the album in 10 days with her touring and studio band – guitarist Stuart Mathis, bassist David Sutton and drummer Butch Norton – and longtime friend and collaborator, legendary steel-guitar player Greg Leisz, who actually participated in the early sessions for the original LP.  (edited from Rolling Stone)
Also new this week…
Flatt Lonesome – Silence In These Walls  (Mountain Home Music Company)
Lazer Lloyd – Freedom's Child  (Lots of Love Records)
Sarah Lou Richards – Someone Who Gets Me  (independent)
Ana Tivel – Small Believer (Fluff and Gravy Records)
Fred Wickham – Mariosa Delta  (Thirty Days Records)
Coming out soon… Bob Bradshaw, Laura Cortese & The Dance Cards, Gill Landry, Ryan Koenig, Whitney Rose, Thomm Jutz, Masontown, Tyminski, The Roseline, Derek Hoke, Dori Freeman, Margo Price, Lee Ann Womack, Bela Fleck and Abigail Washburn, The Deep Dark Woods, Packway Handle Band,The White Buffalo, Monocle Band, Thor Platter …
Check out Americana Boogie Radio station!