Here's all the best Americana and roots-type music releases for the week of November 25th, 2016. Click the artist or album links to find out more. The artist's names link to their websites and the CD title links go to either Amazon, CD Baby or the artist's site for ordering or downloading.
Kelly Pardekooper
City at Night ( Leisure Time Records)
Having cemented his TV troubadour status with placements in True Blood, Sons of Anarchy, Justified, Longmire and many more, this new album continues his sonic stew of roots, rock, blues, and country gumbo. Kelly keeps song-plugging away and tries to treat people well. "Not sure where the time goes as I release my eighth album City At Night. Seems like yesterday I was piddling around in my Iowa basement trying to figure out how to make decent home recordings. Twenty years on..here we are. I don't really tour anymore. I know that's how most musicians make their real income..that's just not my deal these days." says Kelly.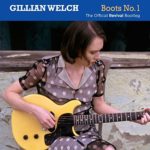 Gillian Welch
Boots No. 1: The Official Revival Bootleg (Acony Records)
To commemorate the anniversary of the original Revival 20 years ago, this two-disc set features eight previously unreleased songs, and 21 outtakes, alternate versions and demos from the making of the album. Says Welch, "I'm happy that the songs hold up. That's probably the thing I'm most proud of. There is that interesting moment in any writer's first batch of songs or any writer's first novel or anything that always seems to have something that is different from what comes after. Maybe it's lack of ego. You know, there really was no me. You know, the artist Gillian Welch didn't really exist. And then after that, I did."
Also new this week…
Bap Kennedy – Reckless Heart (independent)
Coming out soon…  Paul Thorn …
Due in early 2017… The Infamous Stringdusters, Natalie Hemby, Brigitte Demeyer & Will Kimbrough, Tift Merritt…
Check out the new Americana Boogie Radio station!