Check out Americana Boogie Radio station featuring hand-picked Americana roots music!
Special shows on Americana Boogie Radio
Ameri-Kinda Weekly (Friday, 3 PM PST/6 PM EST/10 PM GMT and again on Sunday, 7 AM PST/10 AM EST/2 PM GMT)
Freight Train Boogie podcast archive shows (Monday-Friday, 9 AM pacific/noon EST, 4 PM GMT)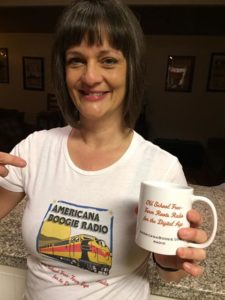 Check out the beautiful new Americana Boogie Radio T-Shirts and coffee cups! We have a very limited amount of these. Get em now! $25 for the T's, $20 for the cups. Out of US orders, please add $6 more for the shirts, $10 more for the cups. To order, donate to ABR via PayPal here and please specify cups or T-shirt size with your mailing address. Thank you!
Recent new music releases added to Americana Boogie Radio:

Andy Hall & Roosevelt Collier – Let The Steel Play  (independent)
The Deadmen – The Deadmen (independent)
Banditos – Visionland (Bloodshot Records)
Slaid Cleaves –  Ghost on the Car Radio (Candy House Media)
Steelism – ism (Intoxicating Sounds)
Sam Baker – Land Of Doubt  (independent)
Solid Air – Beautiful World (Jackalope Records)
Tyler Childers – Purgatory  (Hickman Holler Records)
Sam Gleaves & Tyler Hughes – Sam Gleaves & Tyler Hughes  (Community Music)
Andy Hall and Roosevelt Collier – Let The Steel Play (Dustypicks Music)
Dan Mills –  Something Good (independent)
Willie Nile – Positively Bob: Willie Nile Sings Bob Dylan  (River House Records)
Jeff Tweedy – Together At Last  (Anti/Epitaph Records)
Gov't Mule – Revolution Come…Revolution Go  (Fantasy Records)
Zephaniah OHora and The 18 Wheelers – This Highway  (self released)
Big Thief – Capacity  (Saddle Creek Records)
Ron Melancon – Southern Gothic  (Blue Élan Records)
Various Artists – Red Hot a Memphis Celebration of Sun Records (Americana Music Society Records)
Mike Younger – Little Folks Like You And Me  (independent)
Sammy Brue – I Am Nice  (New West Records)
Phoebe Hunt & the Gatherers – Shanti's Shadow  (Phoebe Hunt Music)
Hugh Masterson – Lost + Found  (Rock Ridge Music)
Various Artists – Treasure of the Broken Land: The Songs of Mark Heard  (Storm Weathered Records)
Grant Maloy Smith – Dust Bowl  (Suburban Cowboy Records)
Molly Tuttle – Rise (Molly Tuttle Music)
Jared Tyler – Dirt on Your Hands  (Blue Alleluia Music)
Various Artists – Mavis Staples – I'll Take You There: An All-Star Concert Celebration  (Blackbird Production Partners)
Big State – Sure Thing (Big Beard Records)
Glen Campbell – Adios  (Universal Music Entertainment)
Amanda Anne Platt & The Honeycutters – Amanda Anne Platt & The Honeycutters (Organic Records)
The Secret Sisters – You Don't Own Me Anymore  (New West Records)
The Deslondes – Hurry Home  (New West Records)
Thomas Wynn – Wade Waist Deep (Mascot Records)
Rachel Baiman – Shame (Free Dirt Records)
Shannon McNally – Black Irish  (Compass Records)
Lesley Kernochan – A Calm Sun  (Maple Syrup Music)
Tom Russell – Play One More – The Songs of Ian and Sylvia  (True North Records)
Larissa Tandy – Grip  (independent)
North Mississippi Allstars – Prayer for Peace  (SMG Records)
Jeffrey Halford and the Healers – Lo-Fi Dreams  (Shoeless Records)
Vandoliers – The Native (State Fair Records)
Will Payne Harrison – East Nashville Blues  (independent)
The Mastersons – Transient Lullaby  (Red House Records)
Zoe & Cloyd – Eyes Brand New  (Z&C Records)
The Dustbowl Revival – The Dustbowl Revival  (Signature Sounds Recordings)
Paul Nipper – Kamikaze Heart  (independent)
Sara Petite – Road Less Traveled  (independent)
Aaron Burdett – Refuge  (Organic Records)
Daniel Romano – Modern Pressure  (New West Records)
The Steel Woods – Straw in the Wind  (Woods Music)
The Two Tracks – Postcard Town  (self released)
Hardened and Tempered – The Trailer Sessions  (independent)
Justin Townes Earle – Kids In The Street  (New West Records)
Jade Jackson – Gilded  (-Anti/Epitath Records)
Lauren Barth – Forager  (Horton Records)
Jake La Botz – Sunnyside  (Hi-Style Records)
Colter Wall – Colter Wall  (Young Mary's Record Co.)
John Moreland – Big Bad Luv  (4AD Records)
Allison Pierce –  Year of the Rabbit  (Allie Cat Music)
Peter Rowan – My Aloha!  (Omnivore Recordings)
Rev. Sekou – In Times Like These  (Zent Records)
Christopher Paul Stelling – Itinerant Arias  (Anti/Epitaph Records)
Chris Stapleton – From A Room: Volume 1  (Mercury Nashville Records)
Amilia K Spicer – Wow and Flutter   (Free Range Records)
The Steel Wheels – Wild as We Came Here   (Big Ring Records)
Matt Urmy – Out of the Ashes  (Tritone Media)
Dalton Domino – Corners  (Lightning Rod Records)
Old Crow Medicine Show – 50 Years of Blonde on Blonde  (Sony Music Nashville)
Joan Shelley – Joan Shelley  (No Quarter Records)
Willie Nelson – God's Problem Child  (Sony Legacy)
Bruce Robison – Bruce Robison & the Back Porch Band  (Motel Time Music)
Jason Isbell and the 400 Unit – The Nashville Sound  (Southeastern Records)
Todd Adelman & The Country Mile – Time Will Tell  (Porch Lantern Music)
Blackfoot Gypsies – To The Top  (Plowboy Records)
Jason Eady – Jason Eady  (Old Guitar Records)
Scott Fab – Leave My Friends  (Scott Fab Music)
The Harmed Brothers – The Harmed Brothers  (Fluff and Gravy Records)
Joseph Huber – The Suffering Stage (self released)
Gwyneth Moreland – Cider (Blue Rose Music)
The String Cheese Incident – Believe  (Sci Fidelity Records)
Angaleena Presley – Wrangled (Mining Light Music)
Cory Brannan – Adios (Bloodshot Records)
Jake Xerxes Fussell – What in the Natural World  (Paradise of Bachelors)
Andrew Combs – Canyons Of My Mind  (New West Records)
Malcolm Holcombe – Pretty Little Troubles  (Gypsy Eyes Music)
Jeb Loy Nichols – Country Hustle  (Inkind Music)



How to request a song on FTB Radio…
Here is the link to another ABR player that includes past songs played. You can even search for a song or artist and request it from this player! Just hit the menu bar and then search for the song or you can browse the whole playlist. When you find the song you want, just hit request and it should come up within 20 minutes.
And remember if you download or buy an album from one of the Amazon or iTunes links, American Boogie Radio gets a small commission from your purchase.
Also, please donate to Americana Boogie Radio via the PayPal link on the upper right area of his page. Any donations of $10 or more will recieve a free CD, or 2! Just mention ABR in the comments and include your mailing address. Sorry, US or Canada only for now.
Donate to ABR via PayPal here!
Twitter: @Fratrain
Flipboard: Americana Boogie Music