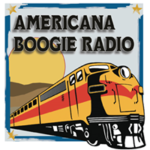 Here's the amazing Americana Boogie Radio station featuring hand-picked Americana roots music!
Special shows on Americana Boogie Radio…
Big Kev will host and produce a monthly 2-hour show dedicated to The Mavericks! We'll feature rare live performances, interviews, deep cuts and much more!
It will be broadcast on Americana Boogie Radio, twice during every month and available for streaming during the month it airs. Then till the end of December you will also be able to listen the Mavericks Monthly, Jan. edition via this link.
"Mavericks Monthly" will air on the 1st and 15th of every month so mark your calendars!  It will run at 7 PM EST/4 PM PST and again at 10 PM EST/7 PM PST.
Ameri-Kinda Weekly (Friday, 3 PM PST/6 PM EST/10 PM GMT and again on Sunday, 7 AM PST/10 AM EST/2 PM GMT)
Saturday Live Boogie! Special live shows form our archives…9 AM pacific/noon EST, 4 PM GMT)
Freight Train Boogie podcast archive shows (Monday-Friday, 9 AM pacific/noon EST, 4 PM GMT)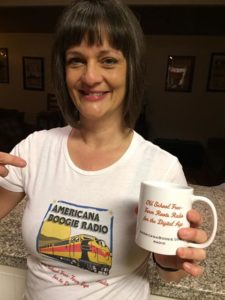 Check out the beautiful new Americana Boogie Radio T-Shirts and coffee cups! We have a very limited amount of these. $25 for the T's, $20 for the cups. Out of US orders, please add $6 more for the shirts, $10 more for the cups. To order, donate to ABR via PayPal here and please specify cups or T-shirt size with your mailing address. Thank you!
Recent new music releases added to Americana Boogie Radio:


Abe Partridge – Cotton Fields and Blood for Days  (Skate Mountain Records)
The Maggie Valley Band – The Hardest Part (self-released)
Brew Davis – Brew Davis (Hellbender Records)
Grant Peeples and the Peeples Republik – Settling Scores, Vol. II  (Gatorbone Records)
Sherman Ewing – Come and Meet Me  (independent)
Craig Gerdes – Smokin, Drinkin & Gamblin  (Sol Records)
I'm With Her – See You Around  (New Rounder Records)
Harvey McLaughlin – Tabloid News  (Saustex Records)
Peter Karp – Blue Flame ( Rose Cottage Records)
Raven and Red – We Rise Up (independent)
Surrender Hill – Tore Down Fences  (Blue Belly Records)
Lisa Morales – Luna Negra and the Daughter of the Sun  (Soundly Music)
Wade Bowen – Solid Ground  (Bowen Sounds)
Lynn Taylor & the Barflies – Staggered (independent)
The Wood Brothers – One Drop of Truth  (Honey Jar Records)
Dusty Rust – Stolen Horse  (independent)
Mark Erelli – Mixtape (self released)
Mary Gauthier – Rifles & Rosary Beads   (In The Black Records)
Simon Linsteadt – February  (Sunny Deep Records)
Christine Rosander – Been A Long Time (Devcat Records)
Various Artists – American Folk featuring Joe Purdy and  Amber Rubarth  (American Folk Records)
Letitia VanSant – Gut It To The Studs  (Letitia Vansant Music)
The Ben Miller Band – Choke Cherry Tree  (New West Records)
David Myles – Real Love  (Little Tiny Records)
Various Artists – Strange Angels: In Flight with Elmore James  (Sylvan Songs)
First Aid Kit – Ruins (Columbia Records)
John Gorka – True In Time (Blue Chalk/Red House Records)
Caitlyn Smith – Starfire (Monument Records)
Anderson East – Encore (Low Country Sound/Elektra Records)
Bob Livingston – Up the Flatland Stairs  (Howlin' Dog Records)
Loose Cattle – Seasonal Affective Disorder  (Low Heat Records)
Grayson Capps – Scarlett Roses  (The Royal Potato Family)
Neil Young & Promise of The Real – The Visitor (Reprise Records)
The Steep Canyon Rangers – Out in the Open (Ramseur Records)
Shovels & Rope  – Busted Jukebox Volume 2 (New West Records)
Joe Purdy & Amber Rubarth – American Folk (Original Motion Picture Soundtrack)  (American Folks Records)
Chris Thile – Thanks for Listening (Nonesuch Records)
Rich McCulley – Out Along The Edges  (independent)
Mavis Staples – If All I Was Was Black   (Anti/Epitaph Records)
Willie Nelson and the Boys – Willie's Stash, Vol. 2 (Legacy Recordings)
Brandi Carlile – By The Way, I Forgive You  (Low Country Sound)
Eric Brace – Cartes Postales (Red Beet Records)
Robert Ellis & Courtney Hartman – Dear John  (Refuge Foundation for the Arts)
Barney Bentall – The Drifter and the Preacher  (True North Records)
Tommy Emmanuel – Accomplice One  (CGP Sounds)
Ronnie Fauss – Last Of The True  (Normaltown Records)
The Hens – Chicon  (Topless Records)
Darrell Scott – Live at the Station Inn  (Soundly Music)
Brother Roy – Last Man Standing (independent)
Langhorne Slim – Lost At Last Vol. 1  (Dualtone Music Group)
Parker McCollum – Probably Wrong  (independent)
Packway Handle Band – Go On Get Up  (independent)




How to request a song on Americana Boogie Radio…
Here is the link to another ABR player that includes past songs played. You can even search for a song or artist and request it from this player! Just hit the menu bar and then search for the song or you can browse the whole playlist. When you find the song you want, just hit request and it should come up within 20 minutes.
And remember if you download or buy an album from one of the Amazon or iTunes links, American Boogie Radio gets a small commission from your purchase.
Also, please donate to Americana Boogie Radio via the PayPal link on the upper right area of his page. Any donations of $10 or more will recieve a free CD, or 2! Just mention ABR in the comments and include your mailing address. Sorry, US or Canada only for now.
Donate to ABR via PayPal here!
Twitter: @Fratrain
Flipboard: Americana Boogie Music