Here's the amazing Americana Boogie Radio station featuring hand-picked Americana roots music!
Special shows on Americana Boogie Radio
Ameri-Kinda Weekly (Friday, 3 PM PST/6 PM EST/10 PM GMT and again on Sunday, 7 AM PST/10 AM EST/2 PM GMT)
Freight Train Boogie podcast archive shows (Monday-Friday, 9 AM pacific/noon EST, 4 PM GMT)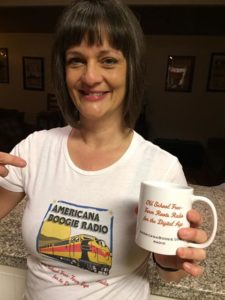 Check out the beautiful new Americana Boogie Radio T-Shirts and coffee cups! We have a very limited amount of these. $25 for the T's, $20 for the cups. Out of US orders, please add $6 more for the shirts, $10 more for the cups. To order, donate to ABR via PayPal here and please specify cups or T-shirt size with your mailing address. Thank you!
Recent new music releases added to Americana Boogie Radio:

Laura Cortese & The Dance Cards – California Calling  (Compass Records)
Benyaro – One Step Ahead of Your Past  (Mohinga Music)
Various Artists – An American Troubadour: The Songs Of Steve Forbert  (Blue Rose Music)
Max Gomez – Me & Joe (Brigadoon Records)
Flatt Lonesome – Silence In These Walls (Mountain Home Music Company)
Lucinda Williams – This Sweet Old World  (Highway 20 Records)
Kris Delmhorst – The Wild  (Blue Blade Records)
Chris Hillman – Bidin' My Time  (New Rounder Records)
Lizz Wright – Grace  (Concord Records)
Hiss Golden Messenger – Hallelujah Anyhow  (Merge Records)
Christian Lopez – Red Arrow (Blaster Records)
Van Morrison – Roll With The Punches  (Caroline International)
Todd Pate – Tangled Memories  (independent)
Josh Ritter – Gathering (Pytheas Recordings)
Various Artists – Swampland Jewels  (Yep Roc Records)
Flatland Tourists – Carry Me Home  (Little King Records)
Eric Brace, Peter Cooper & Thomm Jutz – Profiles in Courage, Frailty, and Discomfort  (Red Beet Records)
The White Buffalo – Darkest Darks, Lightest Lights  (Unison Music Group)
Turnpike Troubadours – A Long Way from Your Heart  (Bossier City Records)
Bruce Cockburn – Bone On Bone (True North Records)
Lizz Wright – Grace (Concord Records)
The Blind Boys Of Alabama – Almost Home  (BBOA Records)
Kacy & Clayton – Siren's Song (New West Records)
Rick Shea & the Losin' End – The Town Where I Live (Tres Pescadores Records)
Steve Martin & Steep Canyon Rangers – "The Long-Awaited Album"  (Rounder Records)
Jeff Mix & The Songhearts – Lost Vegas Hiway  (Vegascana Records)
Jon Langford – Four Lost Souls  (Bloodshot Records)
Various Artists – The Rhinestone Hillbilly: A Tribute to Little Jimmy Dickens  (WV Music Hall Of Fame)
Eilen Jewell – Down Hearted Blues  (Signature Sounds Recordings)
The Texas Gentlemen – TX Jelly (New West Records)
Rusty Young – Waitin' For the Sun  (Blue Elan Records)
Larry Campbell & Teresa Williams – Contraband Love (Red House Records)
David Ramirez – We're Not Going Anywhere (Sweetworld Records)
Tom Irwin – All That Love (Clyded Records)
Jolie Holland & Samantha Parton – Wildflower Blues  (Cinquefoil Records)
Karen & The Sorrows – The Narrow Place  (independent)
Dale Ann Bradley – Dale Ann Bradley  (Pinecastle Records)
Brandy Clark – Live From Los Angeles (Warner Bros. Records)
Robert Cline Jr. – American Mojo (independent)
Eliot Bronson – James  (Rock Ridge Music) 
Lilly Hiatt – Trinity Lane  (New West Records)
Wild Ponies – Galax  (Gearbox Records)
The Sweetback Sisters – King of Killing Time  (Signature Sounds Recordings)
The Accidentals – Odyssey (Sony Music Entertainment)
EmiSunshine – Ragged Dreams  (Little Blackbird Records)
Cory Chisel & Adriel Denae – Tell Me True  (Refuge Foundation for the Arts)
David Rawlings – Poor David's Almanack  (Acony Records)
Lara Hope and the Ark Tones – Love You To Life  (self released)
Jeremy Pinnell – Ties Of Blood And Affection  (Sofaburn Records)
Emily Saliers – Murmuration Nation  (Emily Saliers Music)
Moses Guest – Light  (Aufheben Records)
Randy Newman – Dark Matter ( Nonesuch Records)
India Ramey – Snake Handler (Little River Records)
George Thorogood – Party Of One  (Rounder Records)
Tyler Childers – Purgatory  (Hickman Holler Records)
Justin Payne – Coal Camp (Young Mary's Record Co)
Margo Price – Weakness (Third Man Records)
Jillette Johnson – All I Ever See In You Is Me  (New Rounder Records)
Hymn River Suite – Hundred Proof  (independent)
Ben Hunter, Phil Wiggins, Joe Seamons – A Black & Tan Ball  (independent)
Blank Range – Marooned with the Treasure  (Sturdy Girls Records)
Jason Wilber – Reaction Time  (WilberTone Records)
Juanita Stein – America (Handwritten Records)
The Jerry Douglas Band – What If  (New Rounder Records)
Nicole Atkins – Goodnight Rhonda Lee  (Single Lock Records)
Will Hoge – Anchors  (Edlo Records)
Amber Cross – Savage on the Downhill  (independent)
Elijah Ocean – Elijah Ocean  (New Wheel Music)
Sherman Holmes – The Sherman Holmes Project: The Richmond Sessions  (M.C. Records)
Old Salt Union – Old Salt Union  (Compass Records)
Whiskey Shivers – Some Part Of Something  (Clean Bill Music)
Maurice Tani – The Lovers Card  (Little Village Foundation)
Eric Schmitt – Unraveling  (independent)
The Country Side Of Harmonica Sam – A Drink After Midnight  (El Toro Records)
The Accidentals – Odyssey  (Sony Masterworks)
Applewood Road – Applewood Road  (Gearbox Records)
Lukas Nelson & Promise Of The Real – Lukas Nelson & Promise Of The Real  (Fantasy/Concord Records)
Shelby Lynne & Allison Moorer – No Dark Yet (Silver Cross Records)
Twisted Pine – Twisted Pine  (Signature Sounds Recordings)
Ray Wylie Hubbard – Tell the Devil I'm Gettin' There As Fast as I Can  (Bordello Records)
Korby Lenker – Thousand Springs  (Soundly Music)
Moot Davis – Hierarchy of Crows (independent)
Jim Lauderdale – London Southern  (Sky Crunch Records)
Catherine MacLellan – If It's Alright With You: The Songs of Gene MacLellan  (True North Records)
Dan Auerbach – Waiting on a Song  (Nonesuch Records)
The Deadmen – The Deadmen (independent)
Banditos – Visionland (Bloodshot Records)
Slaid Cleaves –  Ghost on the Car Radio (Candy House Media)
Brent Cowles – Cold Times  (Dine Alone Music)
Sam Baker – Land Of Doubt  (independent)
Zephaniah OHora and The 18 Wheelers – This Highway  (self released)




How to request a song on FTB Radio…
Here is the link to another ABR player that includes past songs played. You can even search for a song or artist and request it from this player! Just hit the menu bar and then search for the song or you can browse the whole playlist. When you find the song you want, just hit request and it should come up within 20 minutes.
And remember if you download or buy an album from one of the Amazon or iTunes links, American Boogie Radio gets a small commission from your purchase.
Also, please donate to Americana Boogie Radio via the PayPal link on the upper right area of his page. Any donations of $10 or more will recieve a free CD, or 2! Just mention ABR in the comments and include your mailing address. Sorry, US or Canada only for now.
Donate to ABR via PayPal here!
Twitter: @Fratrain
Flipboard: Americana Boogie Music