Check out Americana Boogie Radio station featuring hand-picked Americana roots music!
Special shows on Americana Boogie Radio
Ameri-Kinda Weekly (Friday, 3 PM PST/6 PM EST/10 PM GMT and again on Sunday, 7 AM PST/10 AM EST/2 PM GMT)
Freight Train Boogie podcast archive shows (Monday-Friday, 9 AM pacific/noon EST, 4 PM GMT)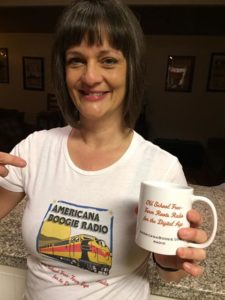 Just in! Beautiful new Americana Boogie Radio T-Shirts and coffee cups! We have a very limited amount of these. Get em now! $25 for the T's, $20 for the cups. Out of US orders, please add $6 more for the shirts, $10 more for the cups. To order, donate to ABR via PayPal here and please specify cups or T-shirt size with your mailing address. Thank you!
Recent new music releases added to Americana Boogie Radio:

Andrew Combs – Canyons Of My Mind  (New West Records)
Malcolm Holcombe – Pretty Little Troubles  (Gypsy Eyes Music)
Mipso – Coming Down The Mountain  (self released) 
Jeb Loy Nichols – Country Hustle  (Inkind Music)
Darden Smith – Everything (Compass Records)
David Olney – Don't Try To Fight It  (Red Parlor Records)
Pieta Brown – Postcards  (independent)
Greg Graffin – Millport  (Anti- Records)
Little Bandit – Breakfast Alone  (YK Records)
The Waifs – Ironbark   (Compass Records)
Quiles & Cloud – Shake Me Now (Compass Records)
Tim O'Brien – Where The River Meets The Road  (Howdy Skies Records)
Kasey Chambers – Dragonfly (independent)
Samantha Fish – Chills & Fever (Ruf Records)
Rich Minus – This Son Is a Stranger to You  (Saustex Records)
Lindi Ortega – Til the Goin' Gets Gone  (Soundly Music)
The Suitcase Junket – Pile Driver  (Signature Sounds Recordings)
Jessi Colter – The Psalms  (Sony Legacy Recordings)
Drew Holcomb & The Neighbors – Souvenir  (Magnolia Music)
Bill Scorzari – Through These Waves  (independent)
Snyder Family Band – The Life We Know (Mountain Home Music Company)
Beth Bombara – Map & No Direction (Lemp Electric)
Sam Outlaw – Tenderheart  (Six Shooter Records)
Sunny Sweeney – Trophy  (Aunt Daddy Records)
Valerie June – The Order Of Time  (Concord Records)
Frontier Ruckus – Enter the Kingdom  (independent)
Fred Eaglesmith – Standard (Sweetwater Music)
Carrie Elkin – The Penny Collector (independent)
Dan Hicks & His Hot Licks – Greatest Licks – I Feel Like Singin' (Surfdog Records)
Southern Avenue – Southern Avenue (Stax Records)
Shinyribs – I Got Your Medicine  (Mustard Lid Records)
Jaime Wyatt – Felony Blues  (Forty Below Records)
Ruthie Foster – Joy Comes Back  (Blue Corn Music)
Scott H. Biram – The Bad Testament   (Bloodshot Records)
The Mavericks – Brand New Day  (Mono Mundo Recordings)
The Kernal – Light Country  (Single Lock Records)
Alison Krauss – Windy City (Capitol Records)
The Traveling Ones – Meet Me There  (independent)
Charlie and The Regrets – Rivers in the Street  (Edgewater Music Group)
The Reverend Peyton's Big Damn Band – Front Porch Sessions (Family Owned Records)
Ray Davies – Americana (Sony Legacy)
Truckstop Honeymoon – Big Things and Little Things  (Squirrel Records)
Romantica – Shadowlands  (Last Chance Records)
Sallie Ford – Soul Sick (Vanguard/Concord Records)
Marty Stuart And His Fabulous Superlatives – Way Out West (Superlatone Records)
Dead Man Winter – Furnace (Gndwire Records)
The Old 97's – Graveyard Whistling (ATO Records)
Great American Taxi – Dr. Feelgood's Traveling Medicine Show  (Lo Hi Records)
Rodney Crowell – Close Ties (New West Records)
Son Volt – Notes of Blue  (Transmit Sound)
The Show Ponies – How It All Goes Down  (Free Man Records)
Delbert McClinton & Self-Made Men – Prick of the Litter (Hot Shot Records)
Brigitte Demeyer & Will Kimbrough – Mockingbird Soul  (independent)
Whitney Rose – South Texas Suite  (Six Shooter Records)
John Craigie – No Rain, No Rose  (Zabriskie Point Records)
Mac Wiseman – I Sang The Song (Life Of The Voice With A Heart)  (Mountain Fever Records)
Dale Watson & Ray Benson – Dale & Ray (Mailboat Records)
David Luning –  Restless (Blue Rose Music)
Rhiannon Giddens – Freedom Highway  (Nonesuch Records)
Blackie and the Rodeo Kings – Kings and Kings (independent)
Nikki Lane – Highway Queen  (New West Records)


This is a link to another ABR player that includes past songs played.

And remember if you download or buy an album from one of the Amazon or iTunes links, American Boogie Radio gets a small commission from your purchase.
Also, please donate to Americana Boogie Radio via the PayPal link on the upper right area of his page. Any donations of $10 or more will recieve a free CD, or 2! Just mention ABR in the comments and include your mailing address. Sorry, US or Canada only for now.
Donate to ABR via PayPal here!
Twitter: @Fratrain
Flipboard: Americana Boogie Music