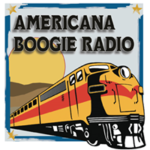 Here's the amazing Americana Boogie Radio station featuring hand-picked Americana roots music!
Special shows on Americana Boogie Radio
Big Kev will host and produce a monthly 2-hour show dedicated to The Mavericks! We'll feature rare live performances, interviews, deep cuts and much more!
It will be broadcast on Americana Boogie Radio, twice during every month and available for streaming during the month it airs. Then till the end of November you will also be able to listen the Mavericks Monthly Part 2 via this link. "Mavericks Monthly" will air on the 1st and 15th of every month so mark your calendars!  It will run at 7 PM EST/4 PM PST and again at 10 PM EST/7 PM PST.
Ameri-Kinda Weekly (Friday, 3 PM PST/6 PM EST/10 PM GMT and again on Sunday, 7 AM PST/10 AM EST/2 PM GMT)
Freight Train Boogie podcast archive shows (Monday-Friday, 9 AM pacific/noon EST, 4 PM GMT)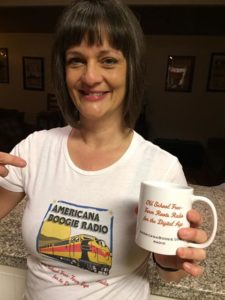 Check out the beautiful new Americana Boogie Radio T-Shirts and coffee cups! We have a very limited amount of these. $25 for the T's, $20 for the cups. Out of US orders, please add $6 more for the shirts, $10 more for the cups. To order, donate to ABR via PayPal here and please specify cups or T-shirt size with your mailing address. Thank you!
Recent new music releases added to Americana Boogie Radio:

The Hens – Chicon  (Topless Records)
Darrell Scott – Live at the Station Inn  (Soundly Music)
Brother Roy – Last Man Standing (independent)
Langhorne Slim – Lost At Last Vol. 1  (Dualtone Music Group)
Parker McCollum – Probably Wrong  (independent)
Packway Handle Band – Go On Get Up  (independent)
The Railsplitters – Jump In (independent)
Nathaniel Rateliff & The Night Sweats – Live At Red Rocks (Stax Records)
Dan Reeder – Nobody Wants to Be You  (Oh Boy Records)
Birds of Chicago – American Flowers  (Signature Sounds Recordings)
Drew Kennedy – At Home in the Big Lonesome (Atlas Aurora Records)
Chris Stapleton – From A Room: Volume 2 (Mercury Nashville)
The Infamous Stringdusters – Undercover, Vol. 2  (Lumenhouse Recordings)
Jim Byrnes – Long Hot Summer Nights  (Black Hen Music)
Joe Stamm Band – Crow Creek  (independent)
The Contenders – Laughing with the Reckless  (Rock Ridge Music)
Billy Burnette – Crazy Like Me  (Rock & Roll With It Records)
Samantha Fish – Belle of the West  (Ruf Records)
Boris McCutcheon – I'm Here Let Me In (independent)
Scott Miller – Ladies Auxiliary  (F.A.Y. Recordings)
Joe Henry – Thrum  (earMUSIC)
Mile Twelve – Onwards   (independent)
The Wailin' Jennys – Fifteen  (Red House Records)
Chamomile & Whiskey – Sweet Afton (independent)
The Deep Dark Woods – Yarrow  (Six Shooter Records)
Bill Carter – Bill Carter  (Forty Below Records)
Ren Geisick – Ren, Love Song (independent)
Thomm Jutz – Crazy If You Let It  (Mountain Fever Records)
JD McPherson – Undivided Heart & Soul  (New West Records)
Michael Dinallo – Crooked Road Songs (Black Rose Records)
Jim Page – A Hand Full of Songs  (independent)
Silver Torches –  Let It Be a Dream  (independent)
Margo Price – All American Made  (Third Man Records)
Bela Fleck and Abigail Washburn – Echo In The Valley (Rounder Records)
Joshua Davis – The Way Back Home  (Soundly Music)
Derek Hoke – Bring the Flood  (Little Hollywood Records)
Lydia Loveless –  Boy Crazy and Single(s)  (Bloodshot Records)
Fred Wickham – Mariosa Delta  (Thirty Days Records)
Jeffrey Martin – One Go Around (Fluff & Gravy Records)
Masontown – In This Time  (self released)
Matt Patershuk – Same As I Ever Have Been  (Black Hen Music)
Thor Platter – Take Time  (independent)
Dori Freeman – Letters Never Read  (MRI Records)
Ryan Koenig – Two Different Worlds  (Big Muddy Records)
Laura Cortese & The Dance Cards – California Calling  (Compass Records)
Whitney Rose – Rule 62  (Six Shooter Records)
Leon Russell – On a Distant Shore  (Palmetto Records)
Lee Ann Womack – The Lonely, The Lonesome & The Gone  (ATO Records)
Deer Tick – Deer Tick, Vol. 1, Deer Tick, Vol. 2   (Partisan Records)
Dennis Johnson & The Mississippi Ramblers – Rhythmland (Root Tone Records)
The Lil' Smokies – Changing Shades  (independent)
Willie Watson – Folksinger Vol. 2  (Acony Records)
Sunday Wilde & Reno Jack – Two  (Hwy 11 Records)
Stephen Stills & Judy Collins – Everybody Knows  (Wildflower Records)
Billy Strings – Turmoil & Tinfoil  (Apostol Recording Company)
Various Artists – An American Troubadour: The Songs Of Steve Forbert  (Blue Rose Music)
Max Gomez – Me & Joe (Brigadoon Records)
Flatt Lonesome – Silence In These Walls (Mountain Home Music Company)
Lucinda Williams – This Sweet Old World  (Highway 20 Records)
Kris Delmhorst – The Wild  (Blue Blade Records)
Chris Hillman – Bidin' My Time  (New Rounder Records)
Hiss Golden Messenger – Hallelujah Anyhow  (Merge Records)
Christian Lopez – Red Arrow (Blaster Records)
Todd Pate – Tangled Memories  (independent)
Josh Ritter – Gathering (Pytheas Recordings)
Flatland Tourists – Carry Me Home  (Little King Records)
Eric Brace, Peter Cooper & Thomm Jutz – Profiles in Courage, Frailty, and Discomfort  (Red Beet Records)
The White Buffalo – Darkest Darks, Lightest Lights  (Unison Music Group)
Turnpike Troubadours – A Long Way from Your Heart  (Bossier City Records)
Bruce Cockburn – Bone On Bone (True North Records)


How to request a song on FTB Radio…
Here is the link to another ABR player that includes past songs played. You can even search for a song or artist and request it from this player! Just hit the menu bar and then search for the song or you can browse the whole playlist. When you find the song you want, just hit request and it should come up within 20 minutes.
And remember if you download or buy an album from one of the Amazon or iTunes links, American Boogie Radio gets a small commission from your purchase.
Also, please donate to Americana Boogie Radio via the PayPal link on the upper right area of his page. Any donations of $10 or more will recieve a free CD, or 2! Just mention ABR in the comments and include your mailing address. Sorry, US or Canada only for now.
Donate to ABR via PayPal here!
Twitter: @Fratrain
Flipboard: Americana Boogie Music