Here's the some of the best Americana and roots-type music releases for the week of November 25th, 2013. Click the artist or album links to find out more.  The artist's names link to their websites and the CD title links go either Amazon or CD Baby for easy ordering.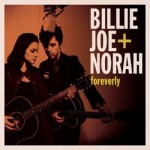 BILLY JOE ARMSTRONG & NORAH JONES
Foreverly (Reprise)
Interesting collaboration between Green Day frontman Billie Joe Armstrong and Norah Jones. Foreverly is a collection inspired by Songs Our Daddy Taught Us, an album of traditional folk and country songs reinterpreted, recorded and released by The Everly Brothers in 1958. The album captures the beauty of the Everly's close harmonies to create a moving and powerful testament to these traditional ballads.
Also new this week..
BEACHWOOD SPARKS – Desert Skies (Alive)
GUY CLARK – Live From Dixie's Bar & Bus Stop (May 6)
Coming out soon… NEIL YOUNG, SHELBY LYNNE  … more new releases
.  Here's a link to this week's Americana Music Association Americana Airplay Chart